Join us for a fun interactive story hour event with author/illustrator Emily Dove!
Praise for Spencer and Vincent: The Jellyfish Brothers:
"Readers may be reminded a little of Finding Nemo in this story of one jellyfish brother who is determined to rescue another. Orphaned undersea siblings Spencer and Vincent "love each other to the very core of their jelly" and celebrate their bond with a special song: "My brother, my brother, / he's sweet, not smelly./ I love him from down in/ my jelly belly." When Vincent is carried away by a big wave, Spencer enlists his ocean pals--a whale, a mermaid, and others--and employs the brothers' theme song to help the exhausted Vincent find his way back. Johnston ( Laugh-Out-Loud Baby) writes in a quirky-sweet voice that keeps the narrative moving along, and she gets surprising comic mileage from two recurring and offbeat phrases: "superior magnitude" (used to describe anything big, from the tidal wave to a whale to a triumphant brotherly embrace) and "your brother who's sweet, not smelly?" Digitally enhanced watercolors by Dove ( Wendell the Narwhal) have a cheery vintage feel, with crisp lines; smudgy, rich colors; and a cast of smiling, wide-eyed, eager-to-help characters--even a potential predatory pelican is given the benefit of the doubt." -Publishers Weekly
---
Emily Dove is an illustrator and author living in Cleveland, Ohio, where the winding rivers and fall foliage never cease to inspire her. As a certified naturalist, she uses illustration as a tool to educate and inspire others about the natural world. She is the illustrator of the recent picture book, Spencer and Vincent: Jellyfish Brothers and the board book, Hello Honeybees. She is the author/illustrator of the picture book Wendell the Narwhal.
Event date:
Sunday, April 28, 2019 - 3:30pm
Event address:
Water Street Bookstore
125 Water Street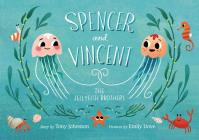 $17.99
ISBN: 9781534412088
Availability: Usually Ships in 1-5 Days
Published: Simon & Schuster/Paula Wiseman Books - February 5th, 2019
---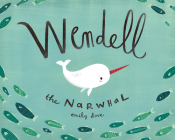 $16.95
ISBN: 9781927018668
Availability: Usually Ships in 1-5 Days
Published: Simply Read Books - January 22nd, 2016
---

$11.99
ISBN: 9781452168920
Availability: Usually Ships in 1-5 Days
Published: Chronicle Books - March 19th, 2019
---